Reclaiming the Gill Tract Again, Albany, California, 2013-05-11
Click on any image to see the full-sized version of it.
Try pressing the TAB key to move to the next image.
See occupythefarm.org

Point-and-shoot photos by Ken Cheetham.
Copyright 2013 by Ken Cheetham. These photos are free for any not-for-profit or educational use.
Photos of the initial 2012 activity are here.

130511 03 entering a field of tall grassy weeds

130511 05 carrying starts to the field

130511 06 boy carrying a big squash start

130511 07 man comforting goat

130511 08 young goats

130511 09 a wheelbarrow of hay

130511 10 many starts

130511 11 the hay circle

130511 12 workers beyond chickens

130511 13 tilling by hand then by machine

130511 14 relaxing in the hay circle

130511 15 mattocks loosen the soil

130511 16 applying some compost

130511 17 compost and a rototiller

130511 20 gopher shakes off the dirt of a new hole

130511 22 holding the first start and a trowel

130511 25 lowering the first start to the ground

130511 27 the first start enters the ground

130511 29 officers beyond the compost

130511 30 loosening the soil with a mattock

130511 31 the first row of squash

130511 32 bearing down on the rototiller

130511 33 a mound of lettuce

130519 01 seedlings on the curved tractor mounds

130519 03 a hopeful seedling on a tractor mound

130519 04 beginning a permaculture herb spiral

130519 05 a welcoming permaculture mound

130519 07 the field behind the welcoming mound

130519 09 new trenches planted by seed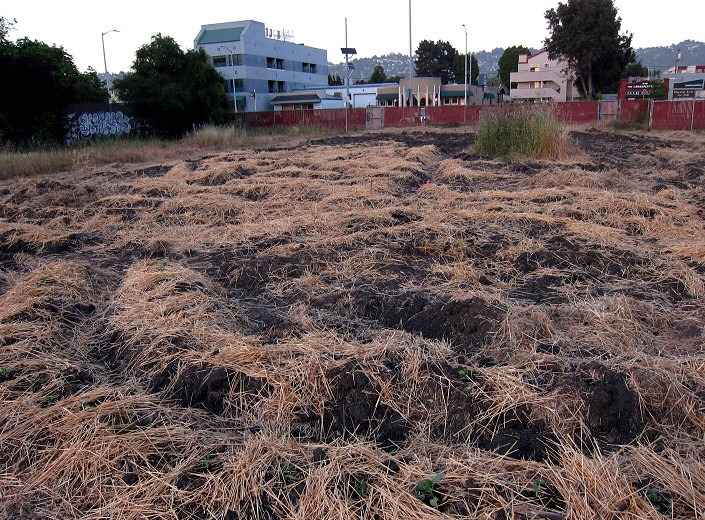 130519 10 the labyrinth left by the tractor

130519 11 a new cobb bench

130525 12 people behind compost and starts

130525 13 cruiser behind starts and compost